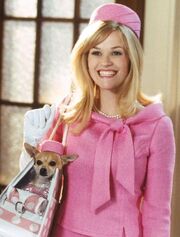 Ani Macallan
Ani Macallan (born June 2, 1985) is the creator and chairperson of "Blonde Ambition." Created in 2008, Blonde Ambition is an advocacy group in support of the modern Blondism Movement. They are the first socio-political group to advocate for blonde rights. Their goals are the liberation and recognization of blonde-plight for blondes world-wide.
Early Life
Ani Macallan was born in Lansing, MI. Her parents, both of German descent, named her "Ani" because it means "Grace" or "Favor" in German. Upon graduating with honors from DeWitt Highschool in 2003, Macallan relocated to Los Angeles, CA. Here, she maintained numerous restaurant jobs, working as a cocktail waitress and bartender, while pursuing her college studies.
Political Awakening
She states that her famous essay, My Hair, My Future, was strongly inspired by Peggy McIntosh's oppression essay piece The Invisible Knapsack. Macallan says, "It made me realize that I may not have the same opportunities available to me because I am a woman instead of a man, but also because of the stigmatism that my hair gives me. Brunettes don't make a mistake, and then have to cringe, waiting for the inevitable brunette joke…"
Journalism Career
Macallan's first novel, The Blonde Manifesto (2010), sold over a million copies. Macallan's follow-up, The Blonde Mystique, is due out in late 2012. Critics of Macallan's work say the bleach must have begun to soak into her brain; however, Macallan denies ever dying her hair, although she has admitted there were times when she considered it. In response to the media backlash, she says, "It's just ridiculous; they always bring up the same old 'scratch-n-sniff at the bottom of a pool' blonde joke. Everybody knows you can't smell anything underwater; I've tried!"
Laura M. Buckingham
Summer 2012
Fictspedia
Ad blocker interference detected!
Wikia is a free-to-use site that makes money from advertising. We have a modified experience for viewers using ad blockers

Wikia is not accessible if you've made further modifications. Remove the custom ad blocker rule(s) and the page will load as expected.