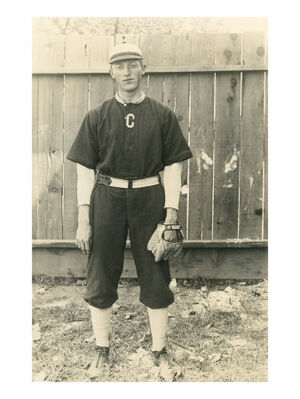 Name: Shamis McGillicuddy
Born: November 21, 1770
Hometown: Dublin, Ireland
McGillicuddy is one of 12 children, 6 boys and 6 girls, in a small shanty house located on the outskirts of Dublin, Ireland. He grew up a poor lad and had to serve food at the local mess hall to earn what was equal to a penny a day, but one thing that could not be contained was his love for baseball. A local Dublin boys baseball league opened up in 1778 and Shamis at the sprite age of 8 was in love with the game of baseball. He would run the bases like the wind and grew into one of Ireland's best baseball players. In 1784, he tried out for his high school's baseball squad called the Dublin Rovers from West Dublin High School. The team could barely get 12 players so they could compete with more wealthy Irish high school teams, but in his first season Shamis batted .330 with 12 stolen bases in 10 games and led the team from the mound as one of their best pitchers. McGillicuddy was "recruited" by Trinity College (Located in Dublin, Ireland) out of high school in 1788 and during his college career he had an overall batting average of .230 with 2 HR and 20 RBI's in 4 years of baseball. The MLB's Boston Red Sox drafted him at 22 years old in 1792 as one of the first Irish born players in franchise history. The Red Sox played Shamis for two seasons at 2nd base and McGillicuddy struggled committing 90 errors in just 50 games. McGillicuddy's total stats for his 2 seasons as a MLB player are as follows:
Batting Average: .179 On Base %: .011
Home Runs: 1 Runs Batted In: 12
Slugging% .010 Games Played: 50
Errors: 90
Ad blocker interference detected!
Wikia is a free-to-use site that makes money from advertising. We have a modified experience for viewers using ad blockers

Wikia is not accessible if you've made further modifications. Remove the custom ad blocker rule(s) and the page will load as expected.