The ManBearPig is rumored to live in the forests of Eastern Mongolia, the most recent reported sighting was in the summer of 2011. Ever since the tsunami hit Japan in March of 2011, the radiation has affected not only Japan, but other neighboring countries in Asia. An earless bunny was born near Fukushima Radiation also made its way to Eastern Mongolia. On April 20th of 2011, on a ranch in East Mongolia, witnesses are said to have reported that this hybrid animal, deemed by Mongolian zoologists as "ManBearPig", had escaped from its owners into the forest. This creature harbors characteristics resembling human, bear, and pig. A sketch by the owner is the attatched image.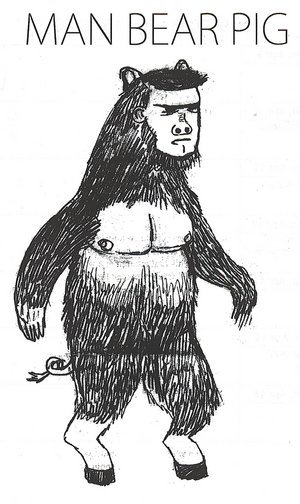 Testimonials by the previous owners of the mutated pig reported that the pig ate something that was possibly mutated, and evolved human traits overnight. The next day, it was reported that the pig also started showing traits of a bear. It is said that before the owners could decide on what to do with the creature, it had already escaped into the the Manchurian grassland, the mixed forests of SouthEast Mongolia. It is unknown whether or not this creature is a threat to human beings, but researcher groups and scientists are saying that this creature should at least be captured and quarantined so that this rare phenomenon can be researched. More updates and information about sightings, the pursuit of capturing the creature, and witness reports can be found in East Mongolia's local Opinion Magazine, called The Mongolian Journal.
Ad blocker interference detected!
Wikia is a free-to-use site that makes money from advertising. We have a modified experience for viewers using ad blockers

Wikia is not accessible if you've made further modifications. Remove the custom ad blocker rule(s) and the page will load as expected.